Is Mercedes R129 reliable?
Added on: March 21, 2023
Author: mj
How many Mercedes R129 were built?
Is Mercedes R129 reliable?As a Mercedes expert and lover, it's my pleasure to shed light on the iconic R129 model. A total of 213,089 R129s were produced from 1989 to 2001, making it one of the most popular Mercedes models of all time.
The R129 was the successor to the W107 series and was available in a range of models, including the 300SL, 500SL, and 600SL. The SL, which stands for Sport Light, was designed to be a luxurious and sporty grand tourer that could handle long distances with ease.
One of the standout features of the R129 was its retractable hardtop, which provided the comfort and security of a fixed roof while still allowing drivers to enjoy open-top driving. The hardtop also made the R129 an ideal choice for year-round driving, regardless of the weather.
Under the hood, the R129 was available with a range of powerful engines, including the 3.0-liter inline-six, the 4.2-liter V8, and the mighty 6.0-liter V12. All models came with a smooth-shifting automatic transmission as standard, making the R129 a true pleasure to drive.
The interior of the R129 was also a thing of beauty, with a well-crafted dashboard, plush seats, and high-quality materials throughout. The car also boasted a range of features that were ahead of their time, such as automatic climate control, power-adjustable seats, and an advanced sound system.
Despite being over 30 years old, the R129 remains a popular choice among Mercedes enthusiasts and collectors. Its timeless design, impressive performance, and luxurious features make it a true classic that will always hold a special place in the hearts of Mercedes lovers.

R129 Model comparison chart
The R129 model refers to the Mercedes-Benz SL-Class produced from 1989 to 2001. Here's a general comparison chart highlighting some key variations within the R129 model range:
| Model | Engine Options | Power Output | Years Produced |
| --- | --- | --- | --- |
| 300 SL | 3.0L Inline-6 | 228 HP | 1989-1993 |
| 500 SL | 5.0L V8 | 322 HP | 1990-1993 |
| 600 SL | 6.0L V12 | 389 HP | 1992-2001 |
| SL 280 | 2.8L Inline-6 | 193 HP | 1993-2001 |
| SL 320 | 3.2L Inline-6 | 228 HP | 1993-2001 |
| SL 500 | 5.0L V8 | 302 HP | 1993-2001 |
| SL 600 | 6.0L V12 | 389 HP | 1993-2001 |
Please note that the power outputs mentioned above are approximate figures and may vary depending on the specific model year and market.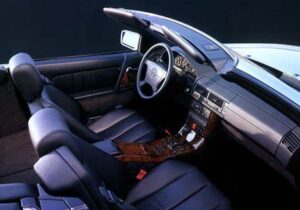 Common R129 problems
While the R129 SL-Class is generally regarded as a well-built and reliable vehicle, there are a few common issues that some owners have experienced. Here are a few examples:
Hydraulic cylinder leaks: The R129 SL-Class models with a power-operated convertible top can develop leaks in the hydraulic cylinders, leading to issues with the top's operation.
Wiring harness deterioration: Some R129 models produced in the early to mid-1990s had issues with deteriorating engine wiring harnesses, which could result in various electrical problems.
Suspension component wear: Over time, certain suspension components such as ball joints and control arm bushings may wear out, leading to noise, handling issues, or uneven tire wear.
Aging soft-top: The convertible roofs on R129 models can degrade with age, resulting in leaks, tears, or difficulty in operation.
It's important to note that these are just a few examples, and individual experiences may vary. Regular maintenance and addressing any issues promptly can help keep the R129 SL-Class in good condition.
Are you already a proud owner of a Mercedes R129 SL? If so, check out our selection of parts for this car at the following link:
https://octoclassic.com/product-category/mercedes-benz/r129
Photos sources: autoevolution.com, univers-mercedes.forumactif.com